SS2 has always been one of the most happening neighborhoods around, many restaurants, kopitiam style cafes and desserts/drinks shop that has been the usual spots for young people to hangout. But just very recently, I found a coffee place, as in they specially serve Italian coffee and cakes.
I was out with mommy for afternoon tea and also doing some shopping in SS2 boutiques. Decided to go for this rather new coffee shop
Rekindle
The interior of the coffee shop caught my attention at first, so nostalgic!
Sorry I was in a hurry, so I didn't really take photos of the shop. I'll try to describe it somehow, they have mismatched chairs, and the shop uses mostly
brown tones.
And their tables, have the sewing machine wheel underneath. There's some simple deco items that bring out art from the 60s. Basically, it's a modern-vintage concept, which is what most young people adore.
Nutella Hazelnut -- RM11.90
Love the aroma of hazelnut, not overly sweet
the cake is fluffy, but kinda dry for me, but eat them with the nutella on top, it'll taste fine.
and it taste even better with the coffee :D
great that they have this for non coffee/tea drinker like my mom hehe
mom says her hot chocolate is vry bitter, but she's okay with it.
since she's a big fan of dark chocolate
There's a small piece of marshmallow on the side, which adds an extra shot of sweetness.
very smooth! but I find the coffee too acidic
not a big fan of sour coffee haha
I prefer bitter ones...the Biscotti is great :D
but erm, i think they failed with the latte art :(
I am disappointed because the photos I seen online look so pretty...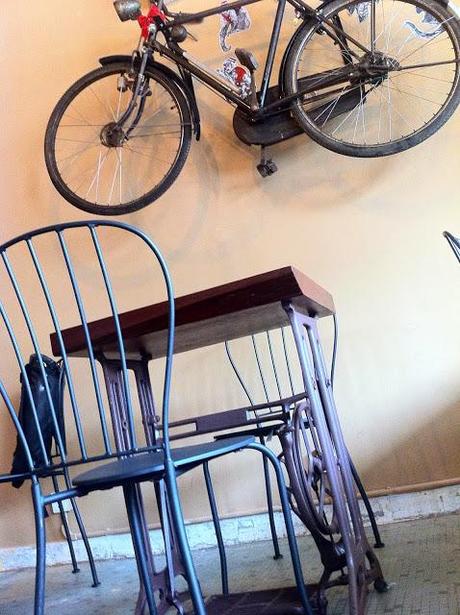 that's the table that I was talking about
beautiful interior
Conclusion: Second visit? Hmmm Probably, if I were to go out with friends for a coffee session after long day of work. I think the ambience really stood out, and they do serve wide range of drinks and cakes. But the serving is abit to small to worth that price. Will definitely come back, but not that often.
Rekindle
Jalan SS2/64,
47300 Petaling Jaya
Next up, I'm gonna talk about a
food truck!!!
Ever since I came back from NTU, my daily routine is to watch TV like there's no tomorrow haha...
but gosh, I don't know whats wrong with Hypp TV, all the channels seem to be replaying all the shows every single day. Then one day, I tuned into
National Geographic Adventure
channel by coincidence, and there, I found my favorite TV show.
EAT STREET
which is a show that introduces all the street food across america, and when they say street food, is not like a stall or something, they are all
Food Trucks
. N trust me, the food they serve are like, I dunno, plain awesome. From that day onwards, i really wished KL has food trucks where we can just order what we want and enjoy the food on the roadside like a boss haha...
Mom knows how much an EAT STREET big fan I am, so she decided to buy something from a food truck she saw in TTDI.
Laughing Monkey Cafe -- Coffee&Sandwich Truck around KL
Woke up, walk down the stairs, and there, a cup of coffee, bought by my mom was waiting for me.
Love you mommy!
Well, initially my mom wanna buy breakfast from the truck, but turns out, their food were sold out!!! My mom, not knowing what coffee I like
(or what coffee most youngsters like)
, bought a Mocha for me, recommended by their boss.
havent ask my mom about the price yet...
but from the photos on their FB page
it's
RM8.00
if i'm not wrong
gosh....kinda freak me out
my mom bought me an 8 bucks coffee?? unbelievable haha
k I know it's not really pretty here haha...
but the mocha taste really really good!!
I really love sweet and smooth taste
even my dad likes it.
from what I heard, they actually go around different places in KL everyday
and they will only be in TTDI on Saturdays
Found their facebook page anyway: do follow their facebook to know where the truck will go to.
Now I know why it caught mommy's eyes
so cute and striking
My love for food truck has grown further!!
K I'll try to hunt down more food trucks in KL
at Kiara Park TTDI on Saturdays
Jalan Abang Haji Openg
Taman Tun Dr Ismail, 60000 Kuala Lumpur