well I don't have a lot of pictures for this post...
but these are the places that I went while I was in JB.
Super delicious! and also pretty affordable!
1. Sensations Cafe @ Taman Molek
Our all time
favorite local dishes and desserts!!
The menu is really thick and full of words haha....so many choices to choose from!
From
economy bihun, roti bakar, to nasi lemak and mee rebus
. You can add on side dishes like Otak-otak and fried egg as well. Besides, there's also a wide range of cakes and pastry with local flavors (like durian cakes&egg tarts), available to give u a full and satisfying breakfast!
simple and delicious, with the yummy sambal and crunchy bihun...
btw, try adding the otak otak as well... It's one good combination :D
Teh C and Kaya Butter Toast
I like the red color nescafe mug, brings a nostalgic feel hehe
The toast was okay, crunchy and strong buttery scent.
I can't remember the exact prices..
But I can assure you, the toast, the bihun and the drink together, inclusive of taxes cost less than RM15
The place can get very crowded in the morning, do go early.
The cafe interior is very simple yet has a nostalgic sense to it. The tables and chairs resembles old school kopitiam but with a slightly modern feel.
Sensation Cafe and Bakery 手工坊
Taman Molek,
81200, Johor Bahru,
Johor, Malaysia

Office: 07 - 3611993
Fax: 07 - 3575154
Email: sensation0503@gmail.com
Opening Hours : 8.00am to 5.00pm
Website : http://www.dashyou.com/Sensation/
2. Cheng Sing Food Enterprise @ Permas Jaya
This is also another breakfast spot
I really like this one because it's something I don't see in PJ
basically, it's sort of like breakfast buffet, where there is a whole range of food displayed and you'll just take what you want to your plate. Yes,
self serviced
. There's fried noodles, bihun, nasi lemak, then there's some dishes like curry, tofu, veggie, fried fishcakes to pair with them. Lots of choices! Other than that, they also have cakes and bread, you can just get them from the shelves.
Yeap, u can mix kuay teow and also bihun
I had curry, egg tofu and some fried items. So full and nutritious lerrr....
Love the curry! Just spices up the kuay teow and increase ur appetite!
I ordered a Pandan layer cake as well. It's really delicious.Their cheesecake is also not bad!
The price, how do they calculate?
Basically, when u r gonna pay, u just state whatever you ordered to the boss and she'll tell you the price.
Yes, what a nice boss right?? Putting trust on the customers.
The price is very very reasonable.
Cheng Sing Food Enterprise
9, Jalan Permas 10/10,
Taman Permas Jaya, Johor Bahru
This is the
best part
I had during my trip in Johor.
Seriously awesome food!!
粿条仔 aka Kuay Teow Soup seems to be very popular in Johor area, in fact Singapore too!
I never really tried them, and it doesn't "sound" good coz i'm not a big fan of soup kuay teow. But OMG, the soup is so wonderful that I can't stop bugging my mom to find 粿条仔 in PJ!
anyways, the Kuay Teow is actually cooked in a super super fragrant and rich herbal soup. When I say rich herbal, pls don't think of it as those chinese medicine soup, it was more like a soup with
very strong spices
. I believe there's Dang Gui and Ba Jiao. Something similar to the
Tangkak Beef Noodle's Soup
. But the best part is, alongside the kuay teow soup, you have all sorts of
super delicious side dishes.
From salted vegetable, foochok, braised eggs, tofu, pork skin, pork intestine and lots more. The clever part is, they make those organs taste so good without any awful smell! Sorry I have no photos, because the food was all gone in minutes! All of asked for extra kuay teow and also side dishes. Seriously, you can't stop once you eat them! The price is also very affordable, there were 7 of us, the bill was around RM60. Cheap right?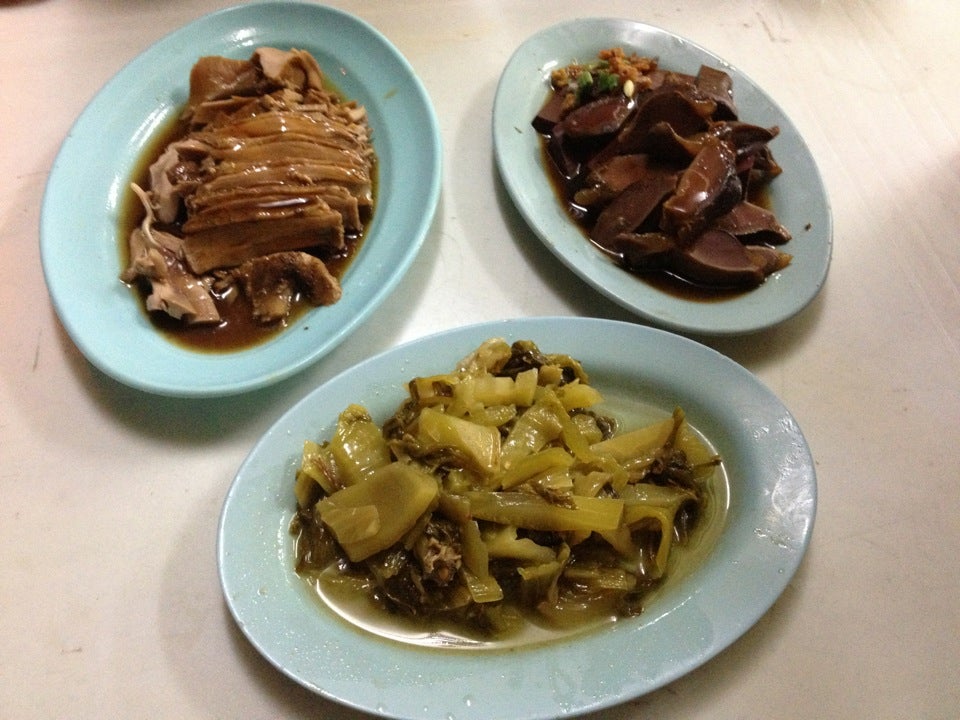 I know not everyone is a fan of internal organs, but pls try them!
It's so crunchy and there's a strong flavor of spices. You'll enjoy chewing them while enjoying the taste!
Yes, their super yummy Soup Kuay Teow!
The texture was just nice, slightly chewy, and it absorbs the soup, giving it a subtle flavor when u chew the kuay teow. Love it!
亚福粿條仔
Cempaka Kueh Tiaw Kia
17, Jalan Anggerik 2/5,
Taman Anggerik,
81300 Skudai,
Johor

Operating hours: 10am to 10pm

Off Day: Every Wednesday
By the way, just wanna share something extra
Do you know what is this??
Boiled Coke with Ginger! 生姜煲可乐
Officially my favorite drink from now on.
I was sick when I was in JB, and I felt super super tired and also heaty.
This drink just soothes down and works like an awesome panadol!
It reduces the heat, while also warming body parts that are cold, like the legs and the palms.
It wont give u gas because after boiling, the coke has no more gas!
Really recommend this drink to you if you want to keep yourself healthy!
By the way, I had this drink at KimGary.