yay!! here comes my ice breaking post after putting my blog in the fridge for so so long!!!
Yesh, my exams are over!! so does my 16 months A-Level Course.
Well, it's been a while since my last blog post, n i guess my blogging skill is getting a
bit rusty
now. So to warm up, I'm gonna talk about a movie that I just watched yesterday.
BRAVE in 3D
Title : Brave
In Three Words : Meaningful, Funny, Motivating
Voice Cast : Kelly Macdonald, Billy Connolly, Emma Thompson, Julie Walters
Synopsis: In rugged and mythic Scotland, the impetuous, tangle-haired Merida, though a daughter of royalty, would rather make her mark as an archer. A clash of wills with her mother compels Merida to make a reckless choice, which unleashes unintended peril on her father's kingdom and her mother's life. Merida struggles with the unpredictable forces of nature, magic and a dark ancient curse.
(Source: GSC website)
A little bit more about the story:
Well, basically it's a story about free spirited princess, Merida, who wants to determine her own fate. She loves archery, likes to ride a horse and explore her country, which is totally the opposite of what her mother wants her to be : a real princess of the country. Then her mother forces her to get married. Merida objected and had a strong arguement with her mother, Merida ended up destroying a sewn tapestry of her family. So after that she looked for a witch and
asked for a spell that will change her fate
. Without knowing what the witch had done, a tart was given to her mom (like snow white's apple ), and her mother turned into a bear which look exactly like a giant bear that threatened Merida and her parents many years ago.Conflicts between the clans also arise when Merida didn't make a decision in choosing her prince, causing the country to be in chaos. And yea the story goes into how Merida and her mother find their way to
break the spell
.Along the way, many funny things happened, both the mother and daughter got closer, lessons were also learned, and things got really intense when Merida's father found out the bear which was Elinor and tried to kill her.
Review: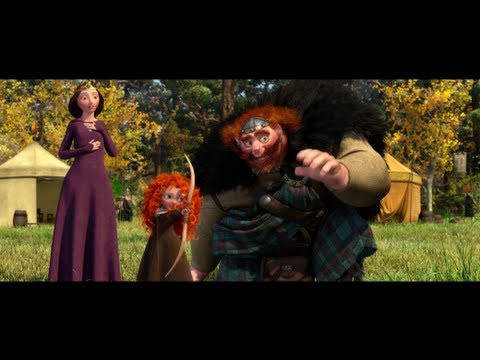 Put the graphics aside, this
story is already very very good.
The storyline, the characters the presentation. The
funny and interesting
twist they added into a story set in Ancient Scottish Kingdom. So let's start with the storyline, well it was a bit (really abit) boring at 1st, because the story started with how Merida was always so rebellious and all the quarrel she had with her mother. But the story got really interesting when Merida left the castle and started looking for the witch. After that every scene was just so nice!
Packed with action, fun, emotions and of course adventure.
Eventhough it might be a bit too fairytale-like, but I guess it was necessary to make it a magical journey.
The characters were the best haha....
everyone is just so adorable!
Really, Merida, her mother Elinor, Her Dad, Her cute triplet brothers. Everyone have a strong character and played an important role in this magical journey. The
witch was also really cool
, it's not lke those old fashion scary, strange witch. It's more human and of course more humorous! Then I must mention the
3 cute brothers of Merida,
well they didn't talk at all, but they're just so cute, and always messing around. But they proved to be smart and helpful brothers that helped her sister to save their mother. Really love them larr.... Basically Merida's family is just awesome la, a loving and funny father, a caring, loving but strict mother, brave and independant Merida, and smart-cute lil brothers.
Now, what the story is really trying to tell you.... The story emphasized more on family especially
mother and daughter relationship and communication
, instead of destiny and fate. It shows the thoughts of a concerned and loving mother and a young daughter who wants to determine her own fate. Both think they are right, nobody is wrong, but conflicts arise. Which is very much the same as the case in all mother and daughters living today, including me and my mother haha. So towards the end, the story showed how a daughter is brave enough to defend her mother even if she had to fight ; and also how a mother will always do everything she could to protect her daughter from being harmed. Basically it tells you,
your family are the only ones who will always be there for you no matter what happens.
At the end,
Merida repented and was crying with guilt when she thought her mother is going to be a bear permanently and lose her forever.
That scene made me cried so badly,
I just teared up without knowing
. My first time tearing up so much in such a short time. Was wiping my face constantly. I guess
my subconscious
was imagining that Merida was me, and I was gonna lose my mother forever.
Now that I'm blogging, thinking back of the scene still make me feel like crying....
At the end, both mother and daughter become closer, and their country was stronger than ever. Weeeee happy ending!! I loove happy endings.
Very disney style haha...
okay, abit about the graphics, well it's my first time watching 3D so i cant exactly compare. But i thought the graphics were real good man. The trees, water, background, looked so real! And the details of the characters, honestlly I think they looked like human if you dont look at the face. I mean, the body, the hair, , the movement,
honestly if you look the back of Merida, you would've thought it's a real person acting.
Anyways, really wanna encourage people to watch this meaningful show. Trust me,
This movie is full of LOVE,
it's funny, magical and meaningful!
Love
Princess Merida,
Brave and Loving, I just love her attitude. Love her red hair.
Lastly,
I love you Daddy Mommy....for always being there for me
. :D