Makes you wish you have a pet dragon, how cool is that?
Watched
How To Train Your Dragon 2
with my chui shui buddies Ting, Gav and Daph on Friday. With so many movies coming up, guess we're gonna establish Friday as movie day LOL. Anyways thanks to the buddies who purposely make time at 9pm just to watch a movie and also continue chui shui at Murni after that heheh, really love chatting with you guys, great way to release stress after the working week.
We've been talking about this movie since last week, the guys enjoy making fun of the movie name wth LOL.
How To Train Yourrr DuhhRahhhGonnnn!!!
*dragonisthemainword* Watched the trailer, and it looks kinda amazing. Funny why I didn't know much about the first movie four years back.
Anyways, this is another movie about
family and love
, guess this theme is capturing lots of audience right now (after Frozen, Maleficent). Lots of heartwarming scenes, funny characters and of course, the pet-dragon fantasy that everyone desires.
Synopsis:
5 years after the first movie, Berk is now a place where Dragons and Humans can coexist, more than that, they are each other's best companion.
Hiccup
is now a free-spirited teenager, exploring new places with his best friend (and super adorable) dragon,
Toothless.
During their exploration, they were being shot down by dragon hunter Eret, who is working for Drago. After freeing themselves and returning to Berk, Hiccup tells his father Stoick about Drago. Turns out Drago is a bad guy who wants a war and take control of all dragon. Feared that Drago might hurt Berk's people and dragon, Hiccup decides to talk Drago out of war with dragons, by offering himself to Eret. While on Eret's ship, Hiccup was rescued by a dragon rider and taken into a dragon sanctuary. The dragon rider who is an expert in controlling dragons, later reveals herself to be Hiccup's mother.
The story continues with how their family reunites, and how their family, together with the people and Dragons of Berk, fight a war with Drago.
The story also talks about how Hiccup and Toothless discover about their own abilities and find their true destiny.
The Cast:
I kinda jaw dropped when I found out who are the people behind this animation.
Super star-studded.
We have Jay Baruchel as Hiccup, Gerard Butler as Stoick, America Ferrera, Craig Ferguson, Jonah Hill OMG and of course, joining the cast, Cate Blanchett as Val, Hiccup's mother. It's amazing that despite it being an animated movie, the characters kinda resemble the actors in real life.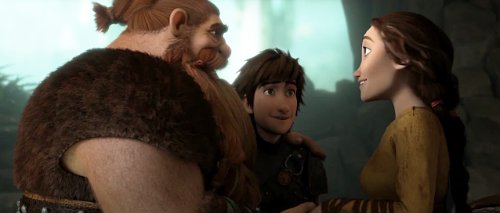 My Thoughts:
In terms of the story, well, undeniably cliche haha But it has to be this way isn't it. And I thought it's great that they actually bring in the mother this time, very heart warming. There's a surprise in the end though, which I don't like (but it's actually a good thing), dun wanna be a spoiler here, so go watch it yourself. Besides the family part, the best part of course, is how they present
the chemistry between humans and dragons.
Too good to be true I know haha, but the interaction is just too cute. The dragons can't talk wan lerr!! but still their actions and expressions, as cute as talking snowman Olaf edi lorrr!! Other than that, I think it sort of reflects another conflict between parent's expectation and children's dreams.
Animation, love it.
Like I said before, great job on giving the Dragons a life. I don't know what technology is used, but I find it amazing that the human characters in the movie actually look real. I mean if you ignore their super-sized and not-so-real eyes. It looks real. Their complexion, their face structure, their movements. and of course the almost real settings. It's truly a 3D film. Characters are awesome, you have the family, the love interest, the pet, the joker best friends, the villain, the villain-turned-good guy and of course, the dragons!
Toothless is sho cute I'm gonna die.
I said this many times, but again, the WOW factor of the movie: Dragons as best-buddy, playmate, confidante.
Despite the story being a little bit boring at certain times, it's still a movie that you'll enjoy.This is definitely a movie for everyone la, no matter who you're watching with. And it's father's day! This movie is gonna remind you how your dad loves you, not just your mom. *tearsgonnafall*
Overall rating: 6/10
Extra whining story: PEK-CEK ness in TGV
So, I bought my tickets online, coz I know we wouldn't have enough time to buy tickets on the spot. I checked for both gsc and tgv's showtime, but only TGV has a 9 o clock show, so boh bian, went to TGV after so long. I don't hate tgv actually, in fact I went for the Beanieplex before, quite nice heheh
But this time's experience, really made me not-so-like TGV anymore.
I arrived at 1u pretty early, right after I finished my work, knowing that I had already bought my tickets so I thought I could just chill, yumcha and wait till my friends come. Then it's around 8.20pm, I was too bored so I decided to get the tix first (usually at gsc, I will only collect the tix when I'm about to go in). Then I was at the box office, searching for a ticket collection counter. Glanced 3 times, and there's none. Then there's a Maybank priority lane, not many people lining up, and so I thought that's the collection lane. I talked to the staff,
Me: Hi can I collect my online purchased tickets here?
Staff: Sorry this is Maybank priority lane
Me: huh???
that means I still need to line up to get my tickets?? seriously??
The staff replied a yes, and showed a slightly apologetic look. Bet he's thinking "this girl must be a GSC-ian"
Immediately the PEK-CEK ness kick in, wth I paid for the tickets edi lerr!! U still want me to line up? Then what's the point of buying online oh????!!!!??? Luckily I went early, coz the queue was long!!! and you know how Malaysia cinemas they allow you to choose your seat and bla bla bla, so yea, waited for some time. For the first time I thought that sg cinemas not allowing people to see the seating plan was quite a good thing, coz it will speed up the queue (yeap Singaporeans like things fast LOL)
So after the wait, it's my turn. I gave the staff my confirmation ID and the next thing she said. "I can't print your ticket for you lahhh" Then I'm like whutttt??? Imagine me queuing up edi and now she says i can't print my tickets OMG I asked her why, she said somebody used my code. She asked whether I gave anyone my booking number, I said no, but actually yes, coz I gave it to my buddies in case they arrive early but they certainly haven't arrive, they were just coming from Kelana Jaya when I called them at 8.40 liddat. She even asked whether I'm Choong Jia Wen lol, I was gonna show her my IC. Then I asked, is it because I clicked the Print Ticket button. She said yes. I was too panicked at the moment, afraid that we couldn't get the tix, so I was reasoning with her, saying that I didn't know the link meant that I can't collect the tix, I even mentioned to them how GSC can use both the print tickets or collected tickets. The staff was actually quite polite and told me to not worry, she instead made a Handwritten Ticket for us LOL
Okay sorry, long story, but my point is, after I came back, I clicked on the link (photo above), as you can see, it says u can still collect the tickets if you lost the printed tickets. I was thinking, what are the odds of someone using my booking number? I suppose no, coz no one was seating at our place. Totally puzzled now. Alright for this incident, not much as a complaint to TGV la, just a whining, coz I think it may not be their fault also, maybe someone really used my booking number. Anyways I was EXTRA PEK-CEK
Then my friends are still on the way when it was already 9, so i decided that I should buy their drinks first, coz the queue is almost equally long as the box office. Then when it's my turn
, I realized I didnt bring enough cash. FML.
I asked the cashier if I can pay with card, and he said no. Okay I know this is not exactly their fault, but I truly suggest TGV should allow card payment. Coz their food is freaking expensive. Trust me, I saw the people in front of me buying all the popcorns, snacks and drinks. Most of them spent at least 20 bucks. Got one family of 4 spent around 60 bucks LOL Yeap I guess it's pricier than gsc. so yea, I think there's really no harm to set up a card payment system lor, especially for customers like me who buy tickets online. So yeap, had no choice, but to buy only my drink and Daph's corn in cup LOL. PEK-CEK ness level up again.
Okay la, sorry for all the whining. But point number one really needs to be considered. Please have a collection counter!! You know why people buy online right? Okay I know it's to get better seats and of course, is to skip the queue! Collecting tickets is fast, you could just team it up with the Maybank priority lane. Then the 2nd point, so far, I haven't experienced anything like this with gsc, and I can tell you, I always buy tickets online unless it's an impromptu decision to watch movie. and I can tell you also that I always checked the self printed ticket but still experience no problem when I go to the counter to collect my tickets.
Point no. 3, just a suggestion. Oh one last thing, the cinema is freaking cold, it's freezing, i'm not exaggerating if I say we need winter jacket. I was curling myself up and got distracted from the movie several times.
TGV is really not bad, especially the upgraded super-yeng cinemas like 1u's, but still, all these things, if they could change them, I guess it will give them an advantage against other cinemas.