There are many sports which are my faves
such as Table Tennis, Swimming, Basketball, Netball etc etc...
I also think that Shopping is a wonderful sport...
But let us talk about something more official :
Not that I'm ever pro in badminton but this sport seems to be the one with most fun and excitement
and what makes it a perfect sport
It makes you sweat!!!
You don't need to get 10 out of 10 smashes to make yourself sweat
Picking up the shuttlecock is already the best sweating exercise ever!!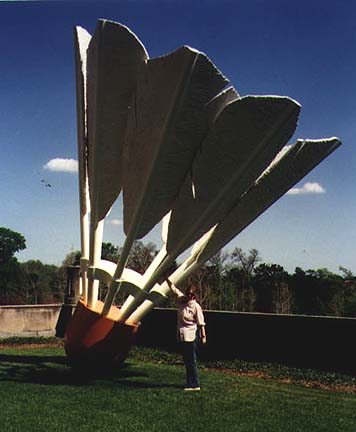 Therefore, it simply keeps us fit and helps in reducing weight.
And now I really need to call up my class' Chinese gang aka the badminton gang for badminton session edi...
Losing weight is not only the reason I love badminton
basically all sports make you lose weight, it's just the matter of fast or slow
Playing badminton gives you more than that
In Malaysia, Badminton is like the most known and popular game among the citizens of all ages
probably bcoz of Dato Lee Chong Wei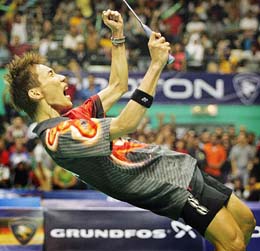 If you don't know how to play badminton, I don't think you can call yourself a Malaysian
I mean, badminton is like the easiest and most popular game
the rules are like
kacang putih
yea...
My point is, badminton is something that everyone knows how to play
so it definitely is the game for everyone to
strengthen their relationship
My class for instance,
3 quarter of the class goes to Taman Megah's badminton court every friday
And that was when we all started to get along
Every friday, the Taman Megah's court will be dominated by Seapark-ians.
and most of us don't pay for the court so the tauke will be staring at us with flaming eyes and sometimes even shouted at us to "halau" us.
Most of them are the form 5's
I know most of them are pros but there's also lousy people like me that jumps around with my racket
and here's what we do
"We play with everyone"
and yea....that's the rule
when you see there's and empty spot, just go in and don't care who's beside you
and you'll have lots of fun....
even if u sucked!!
Sometimes one court will be occupied with more than 4 persons
but we still play like crazy....
and we just get to know everyone....
having a match is another whole lot of fun
we will start playing dirty and scold and tease each other and bla bla bla
but at the end, what we received was just leisure and excitement...
Playing badminton can be really fun and also sweaty
sweating might makes u look sexy but you don't want the smell to spread all over the place, right?
What if you are playing a mix double game, pairing up with a girl/guy that you like?
BO is definitely a big No-No